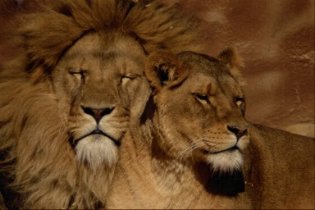 What Lions Are/What Lions Aren't
LIONS ARE members of the world's largest and most active club organization.
LIONS AREN'T looking to build their own personal business connections through membership in a civic club.
LIONS ARE people who have decided to give something back to their communities, who are dedicated to finding people in need, and who meet those needs in an efficient caring way.
LIONS AREN'T people who simply write checks to benefit the hard work of charities in their community, Lions are those people working hard in those community charities.
LIONS ARE men and women who believe that by working with other dedicated Lions, they will accomplish far more for their communities than would be possible alone.
LIONS AREN'T concerned with building personal prestige or reputation. Lions have a great reputation becuse of the hard work they perform. Their service speaks for itself.
LIONS ARE committed to solving major, worldwide health and social problems, and realize that solutions are possible when every Lions Club does it's share.
LIONS AREN'T a group that raises funds locally to be sent elsewhere. Although Lions charities benefit state and worldwide activities, the majority of each Lions Club's activities focus on the local needs.
LIONS ARE people who cherish the friendship and fellowship within their own club, but also feel a close kinship with fellow Lions in more that 190 countries and areas throughout the world.
LIONS AREN'T just about work. Lions have fun and fellowship. Friendships made in Lionism last a lifetime, because they are based on a common commitment to service. Lions work hard, but have fun all along the way.
LIONS ARE patriotic, giving allegiance to their country, while recognizing that all peoples must one day learn to live in peace.
LIONS AREN'T a political organization. Lions are not about political agendas, platforms or issues. In fact, most clubs will not allow an active candidate for political office to speak to their Club, unless all other candidates are given the same opportunity.
LIONS ARE dedicated to maintaining the highest ethical and moral standards in their Club and in their personal lives.
LIONS AREN'T a religious organization. Most Lions have their own personal commitment, which all Lions are encourage to have. Likewise, Lions Clubs are not fraternal organizations with rituals or special oaths.
LIONS ARE CLIMBING TO NEW HEIGHTS OF SERVICE!
NEW LION
L ook for a Good Lion
I ntroduce him/her
O btain Board approval
N ow invite them to join


M ake it official with induction
E ducate them
M ix well with other Lions at all times
B e sure to remind them of meetings
E scalate them immediately into a Lions project
R emind Lion Sponsor of their responsibilities

Prospective Member Form

Thank you for your interest in becoming a Lion. Lions Clubs International is a network of individual clubs united in helping others.

Lions club members are important. Members enable clubs to meet diverse local and international needs. Individually and together with their club, Lions take on projects as varied as cleaning up the neighborhood park while they also combat international issues, develop relationships and fulfill their potential.

Are you interested in becoming a Lion? Membership is by invitation from a club. Please provide us with your name and contact information. We will forward it to clubs in your area for membership consideration.

*First Name:
*Last Name:
*Address:
Address Cont.:
*City:
*State/Province/Shire:
*Zip/Postal Code:
*Country:
*Phone:
E-mail Address:
Profession:
How did you hear about Lions Clubs International?
How did you hear about Lions Clubs International's Web Site?
Comments:
RETENTION
R ejuvenate Tired, Old Lions
E ncourage attendance at all functions
T ry the BUDDY System
E very meeting must be interesting and on schedule
N ot easy to be a good Lion
T hink positive
I nvolve all Lions in Lionism
O n a job well done - Honor them
New members and Retention will never be a problem
RETENTION PROGRAMS - Check Lions International web site for more details which include the following:
President's Retention Campaign discusses the four most common reasons that a member is not retained poor meeting quality, lack of involvement, the formation of club politics and not working together.
The Mentoring Program is an excellent way to retain members. The mentoring program pairs an existing Lion with a new member, aiming to develop and retain both members.
The Member Orientation Program will ensure that each Lion is familiar with the basics of the association, the type of activities they may participate in and what kinds of responsibilities they may have.